Sleep Deeply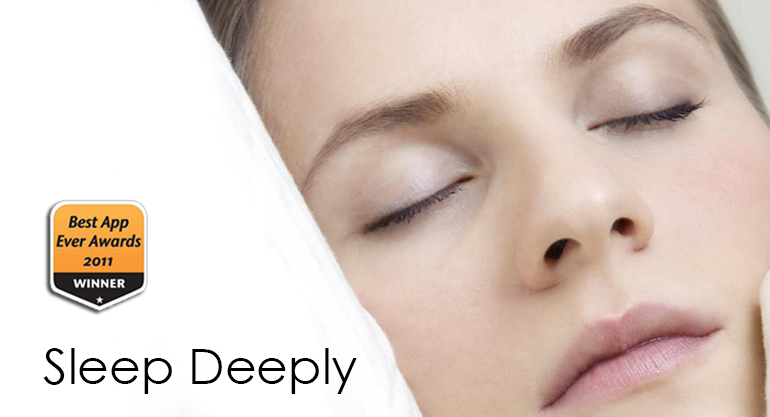 Would you like to be able to relax and drift off to sleep quickly and easily? If you sometimes struggle to unwind, an easy solution is at hand.
This app really works and won the award of Best Medical App at the 2011 Best App Ever Awards. The app has received rave reviews around the world. Here is just one from the US :
No longer sleepless in Seattle…
I love this app! I purchased several sleep apps and this is my favorite, the one I use all the time. Not only is there a session for sleep, but the app includes sessions for relaxation. The hypnotherapist's voice never fails to lull me to sleep. I also find that the content of the sessions are more effective at inducing a state of deep relaxation, or sleep, than other apps… All-in-all, I would highly recommend this app. It has helped me get off sleeping pills![

– Katsp US App Store
This powerful application created by one of the UKs leading hypnotherapists, combines hypnotic guided relaxation sessions, a hypnosis session to help you rid your mind of negative thought patterns and a track of non verbal sounds designed to gently guide the mind to sleep. Darren uses his experience and background to offer you the help you need in a way that works best and most effectively right from your iPhone, iPad or iPod Touch. Sleep Deeply is designed to simulate as closely as possible what its like to see Darren for live sessions and at a fraction of the cost.
The Ultimate in Self Help…the high quality recordings entertain, relax, entrance and help get results rapidly.

– Yoga Magazine
Video faqs to help you understand and feel comfortable with the process.
Video faqs to help you understand and feel comfortable with the process.
Audio explanations to help you prepare for a good nights sleep.
Practical advice for helping you to relax and achieve your goals.
Pink Theta brainwave relaxation session:1. Relax Completely2. Sleep Deeply3. Release Limiting Beliefs & Decisions4. A selection of relaxing video background animations
A selection of relaxing video background animations.
Download Sleep Deeply now, relax, recharge, let go of negative thoughts and sleep well tonight!




Average rating:
610 reviews
Aug 12, 2017
Very helpful in treating anxiety, depression and sleep disorder. Is expensive but worth every penny..
Aug 2, 2017
Life changing
This has changed my mood in a very positive way. I am more relaxed, worry less and sleep better. That's just using the free version. I am bout to buy the full version and can't wait to get using it. Thank you so much.
Jul 29, 2017
Never Fails to Put Me to Sleep
I've been using this app for the last few years. I mainly use it when I struggle to fall asleep.
Jul 12, 2017
Great for getting back to sleep!
I use this app when I wake up at 2 AM and can't get back to sleep. Sometimes I have to play it twice but it always seems to work. Just starting to use it for the different emotions it addresses and I think it will be effective in those situations as well.
Jul 11, 2017
This really works to help me sleep
Jul 10, 2017
Great App
Very relaxing and certainly has improved my sleep
Jul 10, 2017
Brilliant app gets me to sleep every time even during periods of anxiety
Jul 9, 2017
Excellent
Have tried many hypnosis apps to aid sleep mainly. This one is by far the best.
Jul 8, 2017
Very relaxing
Great app! I use it to go to sleep at night and after work. The new look appears to be easier to navigate.
Jul 7, 2017
Without this app my sleep and stress levels would be off the charts