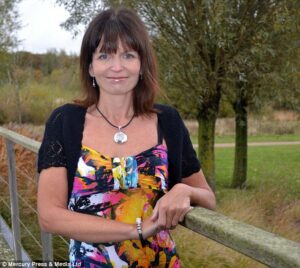 Looking good: Mrs Seymour has lost half of her bodyweight – an impressive 8st – after a hypnotherapy course
Daily Mail, April 9 2014
Summoning the willpower to stick to a punishing diet and exercise regime is never easy but one woman has found a novel situation.  Lynne Seymour, 46, from Southampton lost an incredible eight stone after a course of hypnotherapy gave her the motivation she needed to overcome her food cravings.
Mrs Seymour's battle with her weight began as a child.  She explained "I have struggled with my weight my entire life.  I have always tried the fad diets, gone to slimming clubs and I even took diet pills to try and lose weight."  But despite her tremendous efforts, Mrs Seymour says keeping the pounds off permanently proved a challenge.  She says "I would lose as much as seven stone quite easily, it would drop off me, but I would always put it straight back on.   I was weighing up my options and thinking about paying to have gastric band surgery.  But my mum saw a TV programme on hypnotherapy and I decided to give it a go."
Her sessions at the Hampshire Hypnotherapy Centre proved to be exactly what she needed and Mrs Seymour, who was struggling with breathlessness and osteoarthritis caused by her weight, hasn't looked backed since.
Just one year after starting the programme, Mrs Seymour has lost half her body weight – and this time, has managed to keep the pounds at bay.  "I have never felt like I was on a diet," she explains.  "It was just so easy.  The weight fell off me and it felt completely effortless.  I just never thought it would be possible.  I eat things that I would never have touched before, like fruit – now all I ever snack on is fruit.  I 'm a lot fitter too, I still have aches and pains but I am more healthy and I have been surprised at how much energy I have now.  I still eat, I'm not deprived.  I eat what I want , and leave what I don't.  I have just changed the way I eat and the foods I eat."
Speaking about Mrs Seymour's dramatic transformation, Sue Peckham, director of Hampshire Hypnotherapy Centre, commented: "Our Easyloss programme is really effective because it is not a diet but a way of getting back to eating like a naturally slim person." A delighted Mrs Seymour added: "I've never looked back since and I have kept the weight off.  I haven't struggled at all."
Heavy: Suffering  with breathlessness      Better: Now 8st, breathlessness is a thing of the past
Want to try and lose some weight yourself?
Give it a try now with Darren Marks