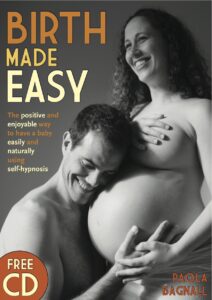 Birth Made Easy – The positive and enjoyable way to have a baby easily and naturally using self-hypnosis (hypnobirthing)
Giving birth should be a straightforward, wonderful and magical experience.
This book tells you how you can take control of your mind.
Please note that the audio that comes with the book is also included in our Hypnobirthing App.
Click Here For Hard Copy Book via Amazon
Dr Robert Overton, MBBS DRCOG

As a GP with an interest in hypnotherapy I found this a fascinating book. I was fortunate to benefit from Paola's teaching and her clear communication skills make this an easy read. Techniques she describes and teaches could benefit expectant mums both during pregnancy and beyond.
Lucia Montesinos, Midwife, expert in homebirths

This book by Paola Bagnall is a very comprehensive and easy approach to the use of self-hypnosis in childbirth. The book will take you through all the tips that you need to know for a safe and natural birth. It will also give you an insight into pregnancy, birth, and the postnatal period, and how hypnosis can help you in those different stages.
David R Hamilton PhD, author of many books including How Your Mind Can Heal Your Body

A most useful guide that can help mothers-to-be to have an easier and pleasantly memorable birthing experience.
Emma Johnson – a Hypnobirthing mum

Paola Bagnall's method is revolutionary. It transformed my second pregnancy from dread to joyful anticipation and gave me a wonderful natural childbirth. Her empowering approach gives control of the birth process back to women, and minimises the need for medical intervention and pain relief.
Juliane Horn – a Hypnobirthing mum

As one of the first mothers who were prepared by Paola for a birth without any invasive pain-relief, I can say hypnobirthing worked amazingly well. I have no memory of pain but only that of a very enjoyable event.
Sarah Findell – a Hypnobirthing mum

In this modern technology-driven age it's a relief to have straight forward, practical and reassuring advice on childbirth, and it works! I am so grateful to Paola Bagnall and her techniques for helping me to experience two wonderful and natural births.
Birth Made Easy
Average rating:
0 reviews